Choosing the Right Outfit for Family Photos
Choosing the Right Outfit for Family Photos
Choosing the Right Outfit for Your Family Photo Session in Florida
Family photos are a cherished way to capture memories that will last a lifetime. One of the most important factors in creating the perfect family photo is choosing the right outfits. The right outfit can set the tone for your photo session, and help to create a cohesive look for your family. If you're planning a family photo session in Florida, here are some tips to help you choose the perfect outfit.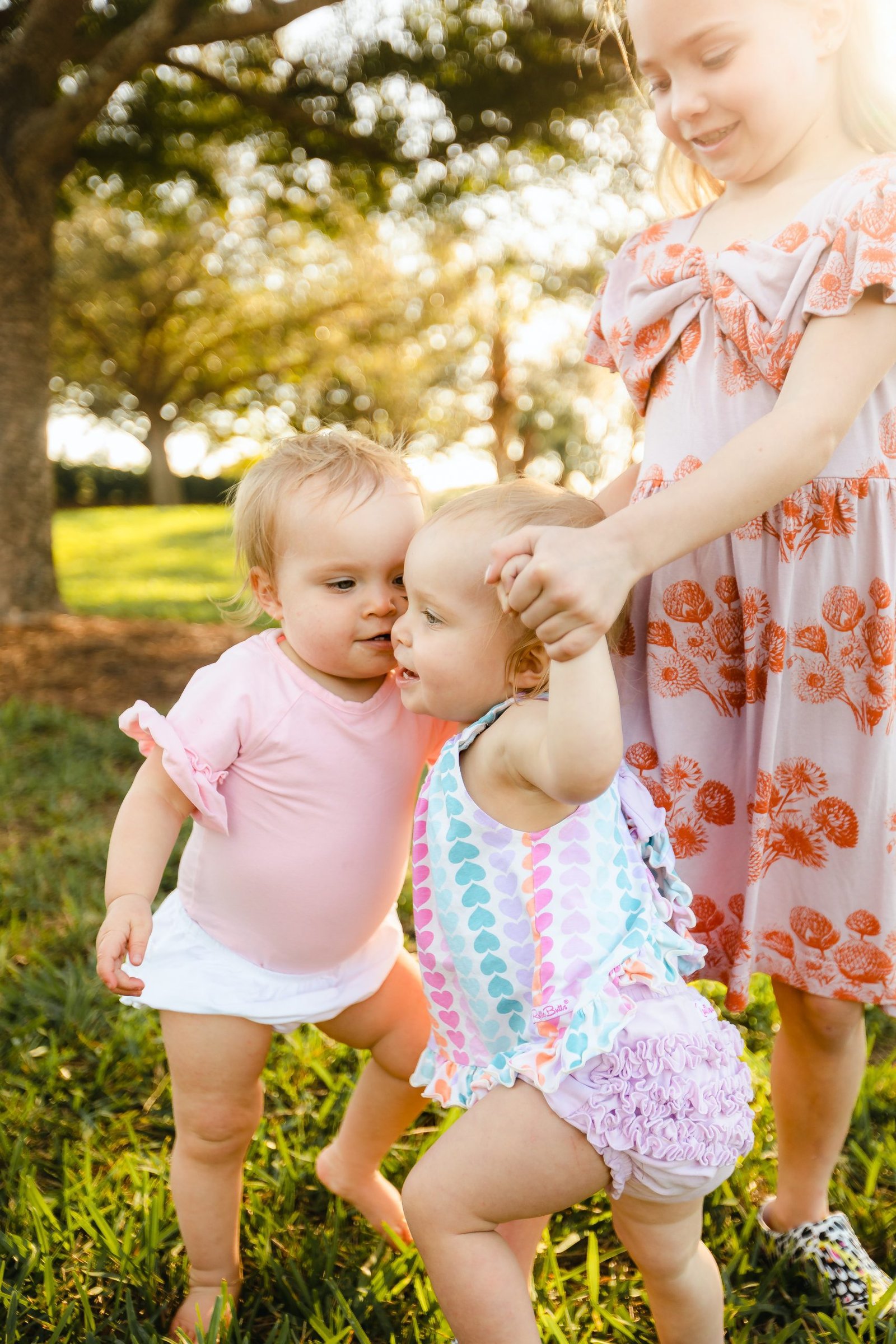 Pick Your Outfit First
First pick your outfit that you absolutely love and build the other outfits around it. Use this as a starting point to determine the color scheme and style for the rest of the outfits. By starting with our favorite outfit, you can create a cohesive look that still allows each family member to showcase their individual style. Plus, it can be easier to coordinate outfits when you have one piece to work around.
Think About the Location
Florida is home to many beautiful beaches, parks, and other outdoor locations that make great backdrops for family photos. When choosing your outfits, consider the location where your session will take place. For example, if you're planning a beach photo session, you may want to choose lighter, breezy fabrics that will complement the beachy vibe. Consider the weather and temperature, as we want to avoid anyone being overheated or too cold! 
Coordinate, But Don't Match
Matching outfits may have been popular in the past, but these days, a more coordinated look is in. Rather than dressing everyone in the same color or pattern, choose outfits that complement each other. Think about the color palette you want to work with and choose outfits that fit within that range. This will create a more natural, cohesive look for your family photo. 
Avoid Busy Patterns
While it may be tempting to choose an outfit with a bold print or pattern, it's generally best to avoid busy patterns for family photos. These patterns can be distracting and take away from the focus of the photo, which is your family. Stick to solid colors or subtle patterns that won't overpower the photo.
Do consider mixing textures to add interest and depth to the outfits. This can be done by combining materials like denim, lace, or knitwear. For example, pairing a denim jacket with a lace dress can create a balanced and textured look. Or, layering a chunky knit sweater over a flowy skirt can add dimension to an outfit. However, it's important to keep the overall look of the outfits cohesive, so be mindful of the textures you choose and how they work together.  
Choose Comfortable Clothing
Comfort is an important factor to consider when selecting outfits for your family photos, especially when it comes to kids. While you want everyone to look good, it's also important to choose clothes that allow kids to run, play, and move comfortably. This is especially important in Florida's hot and humid weather. Opt for breathable fabrics that are comfortable to wear, such as cotton, linen, or lightweight knits. These materials will allow your family to stay cool and comfortable during the photo shoot. By choosing comfortable outfits, you can ensure that everyone can move around easily and have fun during the shoot, resulting in more natural and candid photos.
Accessorize
Accessories like scarves, hats, or jewelry can add a lot to a family photo, but it's important not to go overboard. Choose a few key accessories that complement your outfits and the location of your photo session. For example, a wide-brimmed hat or sunglasses can be a great addition to a beach photo session.
In Conclusion
Choosing the right outfit for your family photo session in Florida is an important part of creating the perfect photo. Consider the time of day and location, coordinate but don't match, choose comfortable clothing, avoid busy patterns, and accessorize. 
Brands
Gap, Old Navy, and Banana Republic, Rachel Pally, Free People, Amazon, Baltic Born, Red Dress, Show Me Your MUMU, as well as local boutiques.